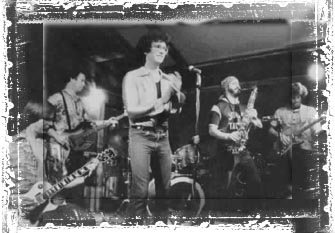 Regardless of where Billy C. Farlow's travels take him, the rhythm and blues of his deep Southern roots stay firmly imbedded in his soul. Growing up in Alabama, Indiana and Texas, he drew his inspiration from both black and white musicians. In his early teens he learned the guitar and harmonica. He wasn't satisfied with simply mastering renditions of the classics. His musical ear and attraction to poetry combined to form original blues, gospel, and rock n' roll tunes.
Billy C's family moved to the Detroit area in the early 60's. The transplanted homeboy started sitting in at various coffee-houses and blues clubs hanging out and jamming with artists such as Sippie Wallace, Big Joe Williams, and the King of Detroit Blues, John Lee Hooker.
In the fall of 1966, Billy C formed his first band, Billy C & the Sunshine with pianist Boot Hamilton and guitarist Larry Welker. They gained a small but fanatical following in the Detroit-Ann Arbor area. Billy C & the Sunshine worked gigs with the MC-5, Mitch Ryder and the Detroit Wheels at the Grande Ballroom and other area venues. On New Year's Eve of 1967 Billy C. and the Sunshine opened for Eric Clapton and Cream at the Grande Ballroom on Cream's first American tour. Billy C. often sat in with the James Cotton Band during their frequent visits to the Motor City and became friends with drummer Sam Lay. When Lay left Cotton's Band to form his own in 1968, Farlow joined following the untimely and tragic death of harmonica master, Little Walter Jacobs, who was with the band at the time.
The Sunshine clouded over and the group finally disbanded when Welker and drummer, Lance Dickerson joined the Charlie Musselwhite Blues Band in California and Boot Hamilton left to go with Mitch Rider. Billy C. joined Sam Lay for an East Coast tour in February 1968 and continued to work with Lay's band off and on through 1968 and 1969. At the same time he was doing a lot of jamming with a band called Commander Cody and His Lost Planet Airmen, led by pianist George Frayne and guitarist John Tichy, both students at the University of Michigan. They shared a mutual love for old Country music and early Rock and Roll and were soon joined by concert violinist Andy Stein and folk guitarist Bill Kirchen. Numerous musicians drifted in and out of the band as they gigged around southeastern Michigan, but the five-man nucleus remained constant.
In 1969 the Airmen moved to Berkeley, CA, and in the process changed from a loose assemblage of talented musicians into a real band. The timing was perfect. The Bay Area music was at its all-time zenith, and the Airmen's twisted brew of roots music went well with the mind-expanded locals. The band opened for Jefferson Airplane, The Grateful Dead, The Doors, Eagles, and many others. As they worked their way up to the top of the bill, record companies came calling. Over the next several years they recorded multiple LP's with Paramount Records and Warner Brothers' Records, scoring a top ten hit in 1972 with the classic "Hot Rod Lincoln". Farlow penned many of the bands best known songs, such as "Too Much Fun", "Seeds and Stems " and the band's theme song, "Lost in the Ozone".
After the Cody band broke up in 1976, Billy C. stayed in California and formed his own Western Swing/Rockabilly band with virtuoso pianist, Billy Philadelphia and Sonoma-born guitar ace, Tommy Thompson. They toured extensively on the West Coast and Southwest, working with such artists as Chuck Berry, Ricky Nelson, Kenny Rogers, Bo Diddley, Asleep at the Wheel, Merle Haggard and the Byrds.
In the mid-1980's Billy C. relocated to the South where he began a long and productive association with Nashville-based producer/guitarist, Fred James. Dedicated to his Blues/Rockabilly roots, he recorded five CD's of original songs over a 12-year period for various labels. Billy C.'s current release on TKO Magnum is entitled Billy C. Farlow-Rockabilly Blues.
Hot sidemen on these recordings include D.J. Fontana, drummer of Elvis fame; Buddy Holly's original bassist, Joe B. Mauldin; Lonnie Mack, whose recording of "Memphis" and other instrumental classics set the standard for rock guitar playing in the early 1960's; Jimmy Gray, bassist from Waylon Jennings' early days in Nashville; veteran Mississippi slide guitarist Roger Younger and J. T. Thompson former percussionist with rock band Kansas. During this period Billy C. also did extensive studio work on harmonica for Chicago bluesman Homesick James and singer/songwriter Bleu Jackson. Billy C. was reunited in the early 90's with old friend Sam Lay for three CD's including a spirited nightclub performance documented on Appaloosa Records as Sam Lay Blues Band-Live! from the Boardwalk Café in Nashville.
Increased touring, both in the U.S. and Europe followed the success of these recordings and today Billy C is as busy as ever, traveling the world, spreading his musical gospel where ever he goes, and having one hell of a time!