I've always enjoyed good cooking and good times around the table with family and friends. From back-yard bar-b-q's to the finest restaurants in Europe I've picked up many tasty recipes I know you'll enjoy.
Squirrel Etouffe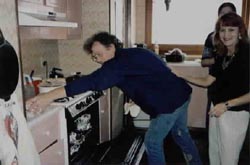 4-6 squirrels, dressed and cut in pieces
1 cup all-purpose flour
1 cup vegetable oil
2/3 cup chopped bell pepper
2/3 cup chopped onion (white or yellow)
2/3 cup chopped celery
1 teaspoon Cayenne powder
1 tablespoon ground Sage
1 tablespoon dried crushed Tarragon
1 teaspoon dried crushed Basil
2 Bay leaves
1 tablespoon salt
1 tablespoon black pepper
4 cups stock (vegetable or chicken or squirrel)
File' powder for garnish
6-8 cups boiling water
Boil squirrel pieces for 15-20 minutes. Drain and set aside.


In a large pan, bring the stock to a boil, then lower to simmer.

In a cast-iron skillet, make a roux of the oil and flour. When roux becomes red-brown in color, remove from heat and stir in peppers, onion celery and bay leaves. Continue stirring for another 5 minutes or so, allowing the roux to cool a bit and stop browning. The cooking of the vegetables also lends much flavor to the roux. A bit of the seasonings may be added here, to further enhance the flavor.

Return stock to a boil and add roux by spoonfuls, stirring constantly. Add seasonings. When mixture begins to thicken, lower heat to simmer and add the meat. Adjust seasonings. I usually add more "fire"! Cook until meat is falling off the bone.

Serve over rice and garnish with the file'.
This dish is good with a salad of late summer/early fall greens such as chick weed, dandelion or dock.


---
Elk River Tater Salad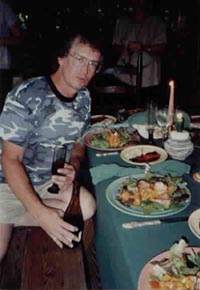 My version of a classic dish. Lemons and dill are the "secret" ingredients.
6 (or so) medium taters cut in 3/4" dice
2 lemons seeded and minced
2 celery stalks chopped
3/4 cup sweet pickles chopped
1 cup purple onion chopped
3/4 cup mayonnaise
2 tablespoons dried dill
salt and pepper to taste
Boil taters and lemons in a large sauce pan until taters are tender. Drain without loosing the minced lemons.


Stir in seasonings, mayonnaise, pickles, onions, and celery.

Adjust seasonings

Chill in refridgerator
No need to let taters cool before adding remaining ingredients. The heat will help the seasonings to permeate the salad. All measurments are approximate depending on the size of the taters and individual taste. Optional ingredients: chopped black and green olives, sliced boiled eggs, cayenne powder, and/or chopped pimiento peppers.
Coq au Vin Southern Style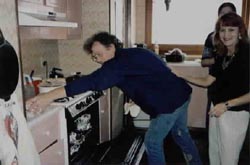 1 chicken cut into 8 pieces
1/2 cup or so of flour
butter or oil
slice of ham as big as your hand, cut into 2" pieces
1 med. onion, chopped
1 garlic clove, minced
10-15 mushrooms, whole or sliced
4 bay leaves
thyme, tarragon & cayenne pepper
1 cup red or white wine
salt & pepper
1. Coat chicken pieces in a bag with the flour that has been seasoned with a bit of the herbs.
2. Heat oil or butter in a skillet & add chicken pieces, shaking off excess flour. Cook until browned.
3. In a roasting pan or casserole dish add the ingredients in this order: wine, a Tbl or more of butter, ham, bay leaves, garlic, chicken, herbs & mushrooms.
4. Cover & cook in a 350 degree oven until done, approx. 50-60 min. About 10-15 min. before done remove cover, baste & finish cooking uncovered.
If you have a big roasting pan or casserole dish, potatoes & carrots may added to make this a one dish meal.
Slap Yo' Mama Shrimp Pie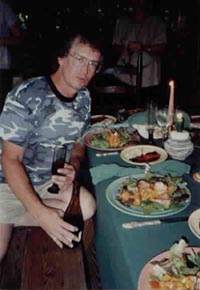 1lb. med.-large shrimp, peeled & cut in half
3/4 cup olive or peanut oil
3/4 cup flour
1 1/3 cup milk
1/2 cup each bell pepper, onion & celery, chopped
1 small potato diced
1/2 cup frozen or fresh peas
1/3 cup frozen or fresh corn
1 med. carrot, diced
pie crust dough for 2 pies
1egg, beaten
seasoning mix of one tsp each: salt, red & black pepper & thyme plus 2 pinches of file' powder
1. In a skillet make a light brown roux with the oil & flour, then immediately add the onions, celery, bell pepper, potatoes & carrot & some of the seasoning mix. Remove from heat. Stir 5 min. or so.
2. Over med. heat add milk, peas & corn & carrot to roux. Cook another 5-10 min. stirring frequently.Taste & adjust seasonings. Remove from heat.
3. Roll dough & line well greased casserole or pie dishes.
4. Add shrimp to roux/ vegetable mixture & pour into dish. Attach top to the pie& brush with the egg. Make a few slits in the top with a knife.
5. Bake in a 350-375degree oven until done, approx. 1 hour. Let cool 1/2 hr.-45min. before serving.